6 The Best Balloon Celebration Rentals in Toronto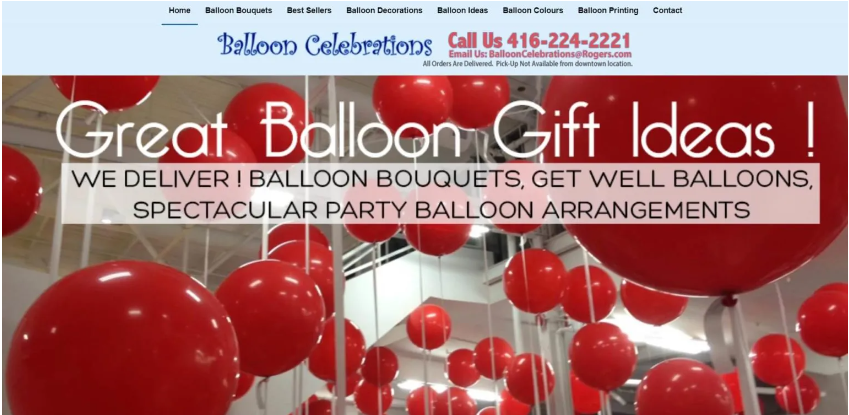 Balloons are a universal symbol of joy. Their bright colors and vibrant shapes make them an ideal addition to any event, whether celebrating the arrival of a new baby or commemorating a successful business milestone. Let balloons bring some magic into your next gathering.
Looking for something unique to make your celebration extra special? Rent a Balloon Celebration package. This all-inclusive option comes with everything needed to bring the fun and excitement of balloons – perfect for adding an element of surprise.
From sophisticated balloon walls to vibrant bouquets, check out the five best Toronto-based companies that offer unique party decorations and superior service.
With exceptional reputations based on customer reviews, let's discover why these businesses are top contenders for creating your stunning balloon celebrations.
Create a vibrant atmosphere with exciting balloon decorations crafted to suit your occasion. Whether it be an archway, dance floor, or something else, all you have to do is relax and enjoy – we'll take care of setup and clean-up for you.
Looking for a unique venue to host your event? Our compiled list of the best indoor playgrounds in Toronto will surely make it an unforgettable occasion.
And no celebration is complete without cake. We have rounded up some top-notch bakeries ready to provide you with delicious cakes and desserts to sweeten things up.
ALSO READ: 10 Best Wedding Decor Rental Services In Toronto (Ontario)
How Much Does a Balloon Celebration Rental Cost?
Make your next balloon celebration soar with the help of a professional balloon rental. Three different packages are available to match any style or budget. The simplest package will bring even more flair and festivity, beginning at just $250 for basic decorations like beautiful balloon arches or ceilings. For additional extravagance, rentals can reach up to $600 – perfect for creating an unforgettable, truly out-of-this-world moment.
Businesses provide more than just their products; they also offer various essential services, such as helium rentals, convenient delivery, and skilled set up.
Make your event festive without breaking the bank – with balloons. Businesses often offer discounts when booking multiple services, so remember to check out package deals.
The Best Balloon Celebration Rentals in Toronto
Ready to craft your perfect celebration? Look no further. Our top five Balloon Celebration Rentals in Toronto will start the party and ensure this event is one they'll never forget. Get ready for a balloon-filled blowout to surprise and delight all guests.
1. VintageBash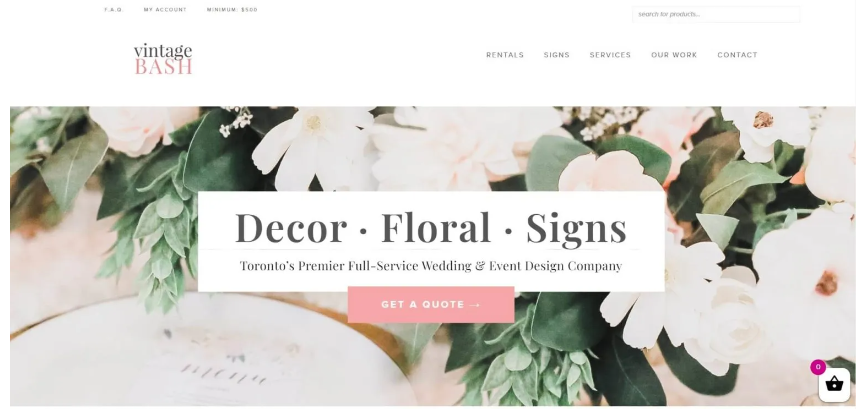 VintageBASH is Toronto's premier provider of full-service florals and decor for any event. Their team has years of experience crafting beautiful, one-of-a-kind settings for the most special occasions – from high-profile weddings to intimate gatherings with friends & family.
With their creative flair and attention to detail, VintageBASH ensures that each occasion becomes a unique memory worth cherishing forever.
For those looking to create a wedding experience that radiates Hollywood-level glamour, the VintageBASH team is ready and able.
Their range of preselected items for weddings combined with their customizable a la carte menu provides customers with all they need to craft an unforgettable event.
This talented team of event experts specializes in crafting unforgettable events. From the smallest details, such as prop and floral decor, to complete production design – this formidable crew has clients covered for any event planning needs.
With an array of full-service or individual package options, these professionals bring creative solutions with a passion for excellence.
Business Information:
Website URL: vintagebash.ca
Email: hello@vintagebash.ca
Phone Number: +16478607401
Located at: 1230 Sheppard Ave W Unit #5, North York, ON M3K 1Z9, Canada
ALSO READ: Best Professional Balloon Decoration Companies in Toronto
2. Balloon Celebrations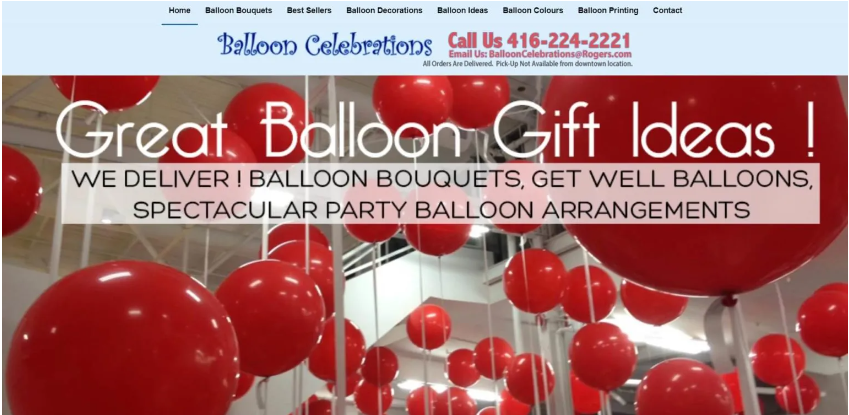 Reinvent the celebration scene with Balloon Celebrations. From birthdays to business briefs, Balloon Celebrations specialize in making your special event feel extraordinary.
Discover creative ways to dazzle guests while expressing heartfelt gratitude – courtesy of their amazing balloon decorating skills.
Balloon Celebrations offers comprehensive and tailored event packages to suit any occasion, focusing on attentive customer service. They ensure timely delivery of their wide range of products at an unbeatable price point.
Let Balloon Celebrations help create a stunning and unforgettable atmosphere for your special occasion.
Whether it's an anniversary, commercial function, or wedding celebration, Balloon Celebrations will work with you to devise the ideal setting that reflects your unique style. By enlisting their expertise, make sure this is an event people won't soon forget.
Business Information:
Website URL: ballooncelebrations.ca
Email: ballooncelebrations@rogers.com
Phone Number: +14162242221
Located at: 777 Bay St., Toronto, ON M5G 2C8, Canada
ALSO READ: Best Backyard Wedding Rental Packages In Toronto (Ontario)
3. Balloonery.com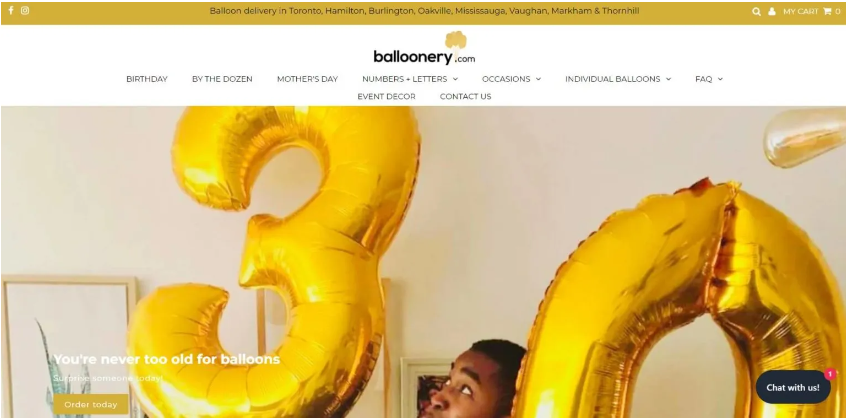 Make your special occasion in the Toronto and GTA area stand out with Balloonery's high-quality, unique arrangements – from classic bouquets to sophisticated balloon decor. Celebrate life's most precious moments perfectly with their exclusive selection.
From last-minute orders to long-term planners, Balloonery offers unparalleled customer service. Enjoy a vast selection of items with quick turnaround and easy ordering – everything you need for an unforgettable occasion.
Make any occasion memorable and unique with Balloonery. Whether it's a birthday celebration, party-thrower surprise, or special event – they'll put together your balloon decor to make the day extra special. Plus, you can rely on their delivery service to get everything there safely and quickly.
Business Information:
Website URL: balloonery.com
Email: info@balloonery.com
Phone Number: +18555666379
Located at:: 1197 St Clair Ave W, Toronto, ON M6E 1B5, Canada
4. Balloon Trix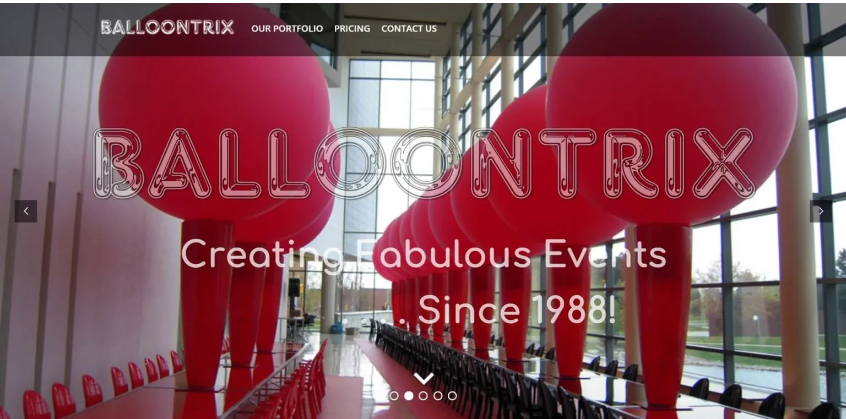 Balloon Trix is the go-to destination for customized events. Their experienced team has years of expertise in crafting unique and memorable experiences, starting with eye-catching balloon deliveries.
No matter what event you're planning, Balloon Trix promises to transform it into a spectacular occasion that you will remember forever.
Balloon Trix brings a touch of magic to any venue, transforming it from ordinary into something extraordinary. Our events services make special days unforgettable – we help school eighth-grade graduations reach new heights and breathe life into parties for memorable celebrations.
As an expert in the industry, Balloon Trix has been creating unforgettable events since 1988. From customized sign-outs to head table signs – no detail is overlooked when it comes to bringing your vision for an event or special occasion into reality.
Located conveniently within GTA and surrounding areas of Ontario & Quebec, their decades of experience are at your service.
Business Information:
Website URL: balloontrix.com
Email: dennis@balloontrix.com
Phone Number: +14167288697
Located at:: 39 St Paul St, Toronto, ON M5A 3H2, Canada
5. Balloons Bash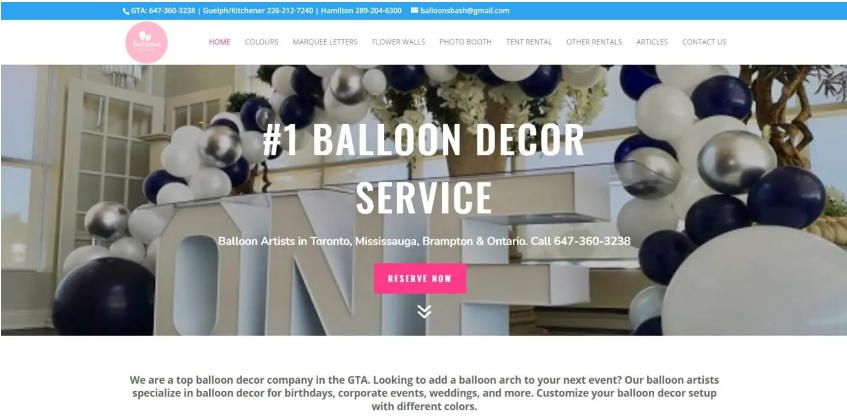 Balloon Bash is widely revered in Greater Toronto as a leader in creative balloon decoration for events.
Their unique and stunning designs have graced some of the most memorable weddings, corporate parties, and birthday celebrations – you name it.
We go above and beyond at Balloon Bash to make your event dream a reality. With our expertise in organization and professionalism, you can count on us for an unforgettable experience full of wonderful memories.
Our team will help bring out the best ideas from each customer so that their vision is transformed into something more magical than they could have ever imagined.
Business Information:
Website URL: balloonsbash.ca
Email: balloonsbash@gmail.com
Phone Number: +16474925470
Located at:: 2 Bloor St E Suite 3500, Toronto, ON M4W 1A8, Canada
6. Events 365 Rentals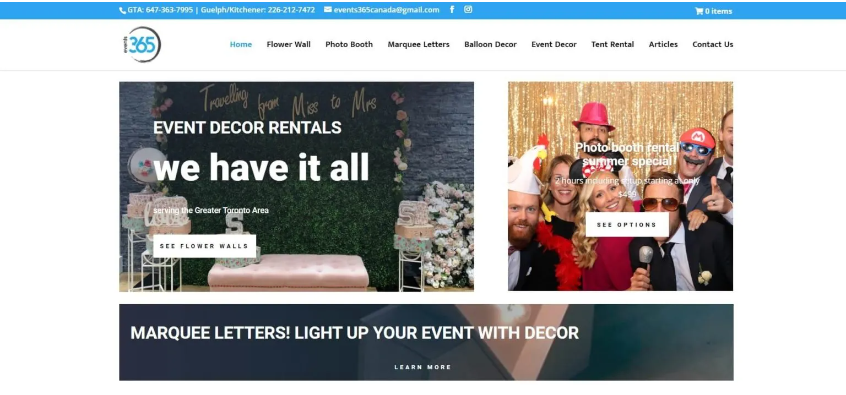 Create the perfect event with help from Events 365. They have everything you need, from flower walls to photo booths for a memorable occasion in and around Toronto.
Whether it's an important corporate gathering or a fun family celebration, their comprehensive selection of decor rentals adds an extra special touch to your big day.
Customers trust Events 365 Rentals to provide exemplary service. From the staff's reliability to their prompt assistance, clients consistently experience excellent customer care through this rental provider.
Get creative and customize your celebration with one of their balloon packages. Choose from classic arches, half-arches, or full centerpieces combined in up to four color palettes – 21 colors available.
Business Information:
Website URL: events365.ca
Email: events365canada@gmail.com
Phone Number: +12897971671
Located at:: 2 Bloor St E Suite 3500, Toronto, ON M4W 1A8, Canada
FAQs On Balloon Celebration Rentals
On what events I can hire a balloon celebration rental?
Add some extra "pop" to your next event with a balloon celebration rental. Whether you're planning for birthday festivities, corporate events, graduations, or weddings – our cheerful decorations are the perfect addition.
Please explain a balloon decoration rental package
Transform your balloon celebration space with colorful decorations. Professional balloon rental companies have you covered, from enchanting arches to playful ceilings.
Not only can they provide the supplies necessary for decorating fun – but premium services such as helium rentals and set-up are available too.
What things to keep in mind when booking a balloon celebration rental?
Maximize your investment and ensure you're getting the best value for your money by taking a few moments to find an arrangement that provides exactly what you need.
Remember to inquire about package offers and potential discounts on balloon celebration rentals – making it all easy, convenient, and cost-effective.
What kind of balloons the event companies use for balloon decoration?
Decorating with balloons? Choose between two options:
Latex
Natural rubber material for an all-ages-friendly atmosphere
Mylar for its durable adhesive sheen
Whichever you decide, your celebration is sure to be one to remember.
Final Words
Toronto is a vibrant city that loves to celebrate, and the best way to make any special occasion even more unforgettable is with balloons. If you're looking for an exciting addition to your event or party decor, check out these best balloon celebration rentals in Toronto – great times await.
Looking for the perfect way to add sparkle and pop to your event? Our wide selection of balloons caters to every occasion, from timeless helium options to unique confetti-filled varieties. Shop now and let the celebration begin.