Robinhood Canada Isn't Available – Check These 3 Alternative Apps
The recent popularity of investing, driven by the stock market reaching all-time highs and the Reddit-fueled trading frenzy, has led to a surge in people seeking free trading apps like Robinhood Canada.
In Canada, Wealthsimple Trade is a popular alternative to Robinhood. (Note: There is currently a promotional offer of a $50 cash bonus available.)
While Wealthsimple Trade does not offer the ability to trade options, we have other solutions available.
If you are seeking a low-cost trading platform that allows you to trade stocks, options, and various other asset classes and provides access to free research tools, consider using Interactive Brokers.
Is Robinhood Canada Available?
Unfortunately, it is not possible to use Robinhood in Canada. Only individuals who are citizens or permanent residents of the United States, or those who have a valid United States visa, are eligible to sign up for a Robinhood account.
Is Robinhood Coming to Canada?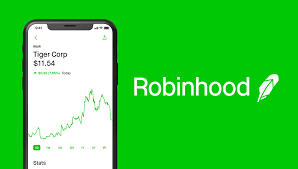 There has yet to be an official word from Robinhood about the possibility of the company expanding to Canada.
Several companies, such as Charles Schwab and SoFi, offer $0 trades in the United States, but this trend has yet to reach Canada.
Robinhood did announce plans to enter the UK market in the past, but global expansion efforts have been put on hold for the time being.
ALSO CHECK: What is Mitel?
Alternatives For Robinhood In Canada
For Canadians, Wealthsimple Trade is a good alternative to consider. It is a zero-commission trading app similar to Robinhood and currently offers a $50 cash bonus for funding your account.
Other discount brokerage options are available in Canada if you are interested in more features.
1. Wealthsimple Trade
Most Canadians are aware of Wealthsimple.
A company that first introduced the concept of robo-advisors through its Wealthsimple Invest offering.
Its latest product, Wealthsimple Trade, is a free app that is the closest option to the Robinhood mobile app available in Canada.
Canadians can use Wealthsimple Trade to buy and sell thousands of stocks and ETFs on major Canadian and US stock exchanges.
Wealthsimple Inc. has been operating since 2014 and has attracted 175,000 customers who have invested over $5 billion (including through its robo-advisor business).
In addition to its other offerings, Wealthsimple has recently launched Wealthsimple Crypto to become an integral part of Canadians' investment strategies.
The company is a division of Canadian ShareOwner Investments Inc., which is a member of the Canadian Investor Protection Fund (CIPF).
Commissions
Key Features:
Some key features of Wealthsimple Trade include:
Free trades with no commissions or additional fees
No minimum account balance is required; you can open a cash account with any amount.
Intuitive mobile app and easy online sign-up process
Options for individual non-registered cash accounts, TFSAs, and RRSPs
Instant transfers of up to $1,500 from your bank account every three business days
Option to upgrade to a Plus subscription for $10 per month, which includes real-time market data through snap quotes and increases the instant transfer limit to $5,000 every three business days, as well as the ability to open USD accounts and trade US equities without incurring foreign exchange fees (non-subscribers receive market data delayed by 15 minutes)
Recently added the ability to purchase fractional shares for certain Canadian and US companies.
Bad Things:
A few limitations to keep in mind when using Wealthsimple Trade:
Only Canadian dollar accounts are available, so if you want to trade stocks or build an ETF portfolio in USD, you will be charged a 1.5% conversion fee every time you buy or sell. While other online brokerages also charge conversion fees, Wealthsimple does not allow you to hold, deposit, or withdraw funds in USD so you will incur this fee on every USD-denominated trade. (This can be partially mitigated by upgrading to a Plus subscription and opening a USD account.)
There is no option to trade options.
The platform does not offer advanced features. However, this aligns with Wealthsimple's target market for this product.
2. Interactive Brokers
Interactive Brokers (IB) was ranked by Barron's as the top online broker in 2021, building upon its tie for first place in 2020.
IB has a long history and has offered its services in Canada for many years.
The company provides various account types, including registered and non-registered accounts and TFSA and RRSP options.
IB also offers a comprehensive set of market research tools, such as its newly launched IBKR GlobalAnalyst, and a range of market data subscriptions.
The company's Canadian headquarters are located in Montreal, and is a member of the Canadian Investor Protection Fund (CIPF).
Commissions
Interactive Brokers has a fixed commission structure for its trading fees, which includes:
$0.005 USD per share for US stocks
$0.01 CAD per share for CAD stocks
A minimum commission of $1 per trade. For traders who make a high volume of trades, IB also offers a tiered commission structure.
Options:
US:
The cost of trading options through Interactive Brokers varies based on the premium and ranges from $0.25 to $0.65 USD per contract, with a minimum per order of $1 USD. The price may be lower for traders with a high monthly volume.
For Canadian options, the starting price is $1.25 CAD per contract, with a minimum per order of $1.50 CAD, and the price may be reduced for traders with a high monthly volume.
Some US ETFs are available for commission-free trading, but transaction fees may be applied.
Key features:
Interactive Brokers offers some key benefits, including:
Low commissions may be more cost-effective for most traders than other brokerages, although the fees are volume-based and can become more expensive for high-volume traders.
The ability to purchase fractional shares, which many other Canadian brokerages do not offer.
Some of the lowest interest rates in the industry for margin accounts and some of the highest rates for uninvested cash account balances.
IB SmartRouting technology aims to get you the best possible price at the time of execution and a range of trading tools.
24/7 customer support by phone and live chat on business days and the option to email the company.
What's Bad
Here are the fees to keep in mind for RRSP accounts with Interactive Brokers:
A $12.50 CAD quarterly fee for the account
A $50 CAD fee for withdrawals or deregistration
A $10 USD activity fee per account is calculated as $10 minus any commissions from trades you made. This fee can be waived if you have a balance of $100,000 USD or more. If your balance is less than $2,000 USD, the fee is $20 USD minus any commissions.
3. Questrade
Questrade (QT) has recently established itself as a significant player in the Canadian online brokerage industry.
The company offers self-directed investing and its Questwealth Portfolios, focusing on lower fees than its competitors.
QT provides a range of registered and non-registered accounts to meet the needs of various investors.
With 50,000 accounts opened annually, over 21 years of experience in the Canadian market, and membership in the Canadian Investor Protection Fund (CIPF), Questrade has $9 billion in assets under administration (according to the company's website).
Questrade aims to make it easy and quick to open a brokerage account online.
Commissions
Here are the fees for trading various securities through Questrade:
Stocks: 1 cent per share, with a minimum of $4.95 per trade and a maximum of $9.95, plus any applicable exchange and ECN fees.
Options: $9.95 per trade + $1 per contract, plus any applicable exchange and ECN fees.
ETFs: Buying is free, but selling is the same price as stocks, which may be reduced if you have an advanced market data package.
Key features
Some advantages of using Questrade include the following:
Low trading fees compared to bank brokerages
A range of platforms, including a desktop app, mobile app, and advanced trading app
Access to advanced data streams and trading tools
The recent addition of instant deposit using a Visa Debit card, up to $3,500 as of June 1, 2021.
What's Bad
Here are a few things to keep in mind when considering Questrade:
There is a minimum account balance of $1,000 to start trading, which may be slightly high for beginners.
Questrade used to charge inactivity fees, but these were removed in October.
Commission Free Trading in Canada
It's worth noting that Canadians are also interested in using app-based trading platforms like Robinhood.
In the past, it was necessary to have a substantial amount of money in a trading account with a bank or broker to invest in the stock market. However, over the past few years, the accessibility of the stock market has increased, and Canadians have taken notice.
While Canada lags in offering zero-fee options trading, there is still a high demand for platforms like Robinhood and similar alternatives.
Canadians are increasingly interested in trading from their mobile devices, and technological advancements have made it possible to buy and sell stocks from the palm of your hand.
Robinhood has quickly become a well-known name, even in Canada.
Other Trusted Trading Platforms in Canada
Webull
Webull offers more features than Robinhood and is a better choice for some users. On Webull, you can trade on margin, short-sell stocks, and use various order types. The app also has tools for researching stocks, reading news articles, and watching financial shows. However, it is important to note that Webull does not allow Canadian citizens to open accounts.
Questrade
Questrade is Canada's largest discount broker and has been a mainstay in the Canadian market for over 20 years. It offers low fees and excellent customer service, making it a good choice for many investors. Like other online brokerages and traditional banks, Questrade is regulated by the Investment Industry Regulatory Organization of Canada (IIROC) and is a member of the Canadian Investor Protection Fund (CIPF).
Wealthsimple
Wealthsimple and other platforms offer an alternative to traditional investing and financial planning. These platforms can be particularly useful for new investors who need more time to track individual stocks and want to benefit from diversification and guidance from advisors.
Interactive Brokers Canada
Interactive Brokers (IBKR) is a highly versatile online brokerage that offers a wide range of securities for trading.
With such a diverse selection, there is something for every trader on the IBKR platform. The platform is a strong contender for becoming the go-to platform for traders in Canada.
TD Ameritrade
TD Ameritrade is a good choice for self-directed investing, with a wide range of asset classes, market data, research tools, and educational resources.
The platform is easy to use and user-friendly. One of the benefits of TD Ameritrade is that there is no minimum deposit, making it a good option for beginner investors who need a large sum to start their investment journey.
Robinhood Canada FAQs
What is Robinhood Canada?
Robinhood is a popular trading platform with over 13 million users. It offers a range of financial instruments for trading, including stocks, ETFs, options, and cryptocurrencies, all without charging any fees.
The platform has a user-friendly interface and mobile app, making it convenient for people to trade on the go. While Robinhood does not charge trading commissions, it generates revenue in other ways, such as selling its users' order flow to high-frequency trading firms and offering paid premium services.
When was Robinhood launched?
Robinhood was founded in 2013 and received $3 million in seed funding. Some of its notable angel investors include Jason Calacanis.
Sites like Robinhood Canada?
In Canada, Wealthsimple Trade is a commission-free trading platform similar to Robinhood. It offers a mobile app and desktop platform for Canadians to trade stocks, ETFs, and options without any fees.
Why Robinhood is not in Canada?
There are a few reasons why Robinhood is not available in Canada. One is that the Canadian securities regulations are more strict than those in the United States, which may make it challenging for Robinhood to comply with these regulations and operate in the Canadian market.
Another reason is that the Canadian market is smaller than the U.S. market, so it may be more difficult for Robinhood to generate sufficient revenue in Canada compared to the United States.
Can I trade options in Canada?
Yes, it is possible to trade options in Canada, but you must first be approved by the Canadian Securities Administrators (CSA). The CSA is a national regulatory body that oversees the securities industry in Canada.
In order to trade options in Canada, you must meet certain criteria and pass a proficiency exam to demonstrate your knowledge of options trading.
Once you are approved by the CSA, you can then trade options through a brokerage firm that is registered to offer options trading in Canada.
How can I invest in US from Canada?
There are several ways to invest in US stocks from Canada. One option is to open a brokerage account with a firm that allows you to buy and sell US stocks directly.
Another option is to invest in a mutual fund or exchange-traded fund (ETF) that holds a diversified portfolio of US stocks.
Some Canadian brokers, such as Questrade, also offer access to US exchanges, which allows you to buy and sell US stocks through your Canadian brokerage account.
It's important to note that investing in US stocks from Canada may involve additional costs, such as currency exchange fees, and may also be subject to different tax rules. It's a good idea to research your options and consider the potential risks and benefits before making any investment decisions.