How To Unlock The Butterflies Lens on Snapchat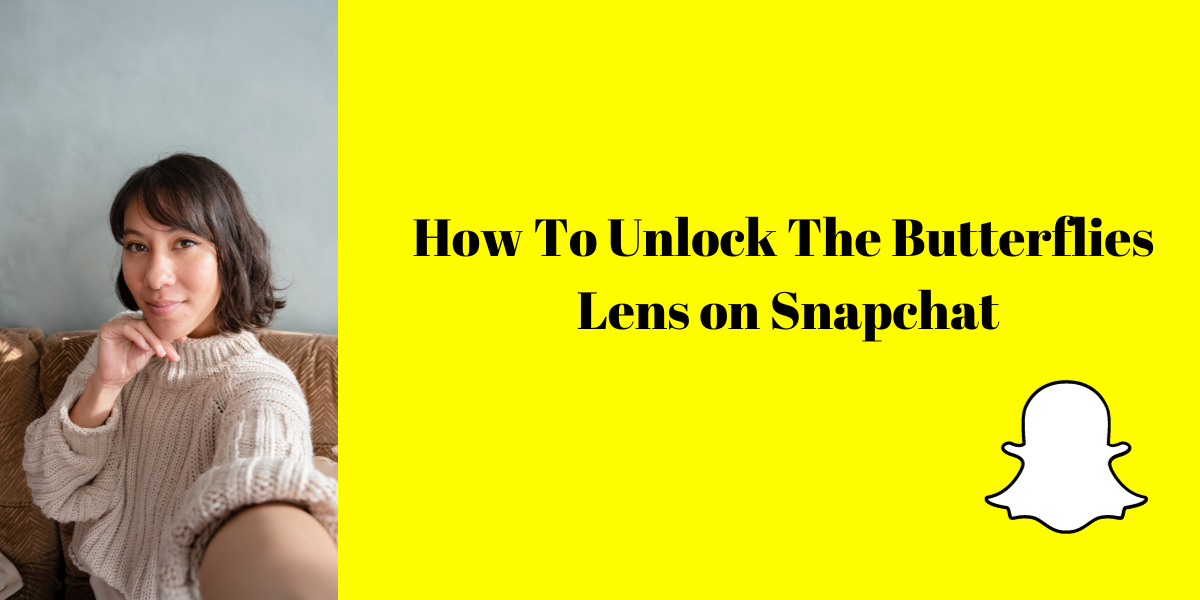 Unlock The Butterflies Lens on Snapchat – Have you seen people using the butterfly effect on their Snapchat photos and wondered how to get it? If that's what you're looking for, you're in the right place. In this guide, we'll show you different ways to do it.
Snapchat has these special effects called lenses that make your photos and videos look cool. They call them Snaps on Snapchat. One of these lenses is the butterfly lens filter, which is really popular right now. Many people, even famous ones, are using it and posting their pictures on social media like Instagram.
But when you try to find the butterfly lens on Snapchat, you might not find the original one called "Paper Butterfly by jp pirie" because there are other filters with the same name. So, you're probably wondering how to unlock the real Butterflies Lens on Snapchat. That's what we'll explain in this article.
What is the Butterflies Lens?
It's a cool Snapchat filter that adds butterflies to your photos and videos. When you use this filter, you'll see lots of butterflies flying around your shoulders and face. Plus, it makes you look a bit nicer in the pictures.
Snapchat uses some fancy technology called Augmented Reality (AR) to make it seem like there are butterflies around you, even though there really aren't. To use it, just open the butterfly filter on your phone and show your face to the camera. Then, you'll see pretty and colourful butterflies all around you on the screen.
These butterflies in the camera look and act like they're real. When you move, they'll fly around too. Some of the butterflies might seem like stickers that stay on your face, like on your cheeks.
Steps to Unlock Butterflies Lens on Snapchat?
Here are different methods to unlock the butterflies lens on snapchat:
Ask For The Link
The quickest and easiest way to get the Snapchat butterflies effect is by asking your friends who are already using it. Here's how you can do it:
First, check if any of your friends on Snapchat are using the butterfly filter in their snaps.
If you find a friend who has butterflies filter used in their snaps, ask them to do these simple steps to share the filter with you:

Open Snapchat on your phone.
Find and click on the Butterflies Lens from the recent filters.
Tap the "more information" icon (it looks like a letter "i") in the top left of the screen.
Choose "Share to Friends" from the menu that pops up.

You'll have several options for sharing the link. You can send it through WhatsApp, Twitter, iMessage, Messenger, Facebook, Telegram, and more.
Alternatively, you can tap your friend's name to send them the link directly.
Once you open the link you receive, Snapchat will automatically unlock the Butterflies mood filter. Now, you can use it to add butterflies to your pictures and videos on Snapchat.
Search For Lens On Snapchat
Here's another easy way to get the butterfly effect on Snapchat. Just follow these steps:
Open the Snapchat app on your phone.
Look for the "Explore" icon in the bottom menu; it looks like a search icon.
When you tap it, a gallery of filters and lenses will appear.
Now, use the search box at the top to look for the butterfly lens. You can try different search terms like "butterfly," "butterfly lens," "butterfly filter," "butterfly vivek," or others to find it.
When you find the butterfly lens you like, tap on it to give it a try and use it for your pictures and videos.
Scan the Snapcode
A Snapcode is like a special code that helps you do different things on Snapchat, such as adding new friends, opening websites, or using cool filters. In this case, it helps you get the Butterfly filter quickly and easily.
Here's how you can use it:
Start by opening the Snapchat app on your phone. The camera will be ready to use.
Look for the code scanner icon at the bottom of the right-side menu.
Now, scan the Snapcode using the Snapchat camera you have. You might have it on your phone or computer.
When you do this, the Snapchat butterfly filter will appear, and you can use it for your pictures and videos.
Search through Snapchat Web
Here are the steps to help you:
Go to Snapchat.com using your web browser.
In the top-left corner, there's a search bar. Type in a word like "butterfly" or "butterfly lens."
You'll see lots of cool lenses made by different people.
Open a lens you like, and use your Snapchat app to scan the Snapcode.
The Butterfly filter will appear on your camera screen.
You can keep trying different lenses until you find the one that's just right for your Snap!
Download on Snapchat Lens Studio
It is a tool for people who like to create their own filters, like the Butterflies filter. It's mainly for developers, who are like the inventors of these cool filters. If you're a developer, you can make your own Snapchat filter and share it with others. But don't worry, regular users can use these filters too, once they're created. It's a way for everyone to enjoy new and fun filters on Snapchat.
Conclusion:
Snapchat is better known for its fun filters than for chatting. It has lots of special lenses that make your photos and videos look great. Right now, the Butterfly lens is really popular. So, this article gives you a step-by-step guide on how to get the Butterflies lens on Snapchat.
And you can use these same methods to get other cool Snapchat lenses too. I hope this guide was useful for you. If you liked it, feel free to share it with your family and friends.